Come Celebrate the Ottawa Boat and Sportsmen's Show – 40th Anniversay – and win Free tickets!!
The Ottawa Boat and Sportsmen's Show has been an Ottawa tradition for the past four decades and this year, the show will be celebrating this milestone in true outdoor fashion! Opening February 19 and running to the 22nd, the Ottawa Boat and Sportsmen's Show will turn the EY Centre (formerly the Ernst Young Centre) into a boating and outdoor enthusiast's paradise.
What about the Free tickets, you say?
A set of two SHOW passes will be given-away each week(courtesy of Erin McKay, Associate Account Manager with PUNCH Canada Inc) for the next three weeks, to those who correctly answer my Sportsmen's Show Trivia questions!
Read on..
Showgoers can reminisce about good 'ole times' with a walk down memory lane, featuring vintage boats and photos captured over the Show's 40 year history. And of course, choose your dream boat, off-road recreational vehicles, and water sports gear from the largest selection of exhibitors in the Ottawa region.
This year's show is nothing like you've ever seen before. 
Check-out some of the highlights:
Fishing Tips with Pro "Big" Jim McLaughlin:  Never miss a bite again. Get top fishing tips from the legendary fishing pro Big Jim and friends, who will offer sessions on how to improve your angling skills. Afterwards, put his tips to practice as you try your luck at The Minto Jackpot Casting Challenge, where everyone is a winner.
Get WILD with Birds of Prey: Get up close and personal with live Falcons, American Kestrel, Owls & Hawks and have your picture taken with a magnificent Peregrine Falcon. This year the Canadian Peregrine Foundation (CPF) is giving visitors a rare and unique opportunity to have their photo taken with a falcon for a donation which will benefit the restoration and recovery of endangered and threatened birds.
Learn to fish with the Ministry of Natural Resources: This year Canadian Sportsfishing will feature a fishing stimulator giving children and adults the chance to get in on the thrill and feeling of catching a fish.
Exclusive Ice Fishing Seminar: Learn how to master the art of ice fishing through an engaging session with our fishing experts. Gain insightful knowledge on bait, gear, climate and timing and learn how to catch your next meal in the dead of winter!
Tips from Blind Fisherman Pro: Can you feel the bite? Learn from Lawrence Gunther(Euteneier), North America's only completely Blind Fishing Pro honed his skills fishing commercially for Cod off Canada's East Coast and now competes in tournaments throughout Canada.
WHEN:
Thursday, February 19, 11 a.m. – 8 p.m. Friday, February 20, 11 a.m. – 8 p.m.  Saturday, February 21, 10 a.m. – 7 p.m. Sunday, February 22, 10 a.m. – 5 p.m.
WHERE:
EY Centre (formerly the Ernst Young Centre.) 4899 Uplands Drive, Ottawa, ON K1V 2N6
TICKETS:
Adults: $15.00  Seniors: $10.00 Juniors: $10.00 (Ages 10 to 15)  Children: FREE when accompanied by an adult (under 10 years) Family Pass: $35.00 (two adults and two juniors)   Four-Day Super Pass any admission valid for all four show days   (Cash & Debit only Box Office)   Save $3 online when you buy advanced tickets before Feb 12, 2015
For complete show information visit: www.ottawaboatandsportshow.ca
TRIVIA QUESTION #1: (For a set of FREE tickets to this year's Ottawa Boat & Sportsmen's Show)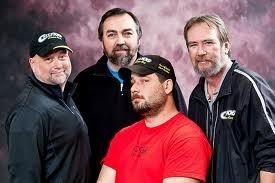 About 10 years ago, my old pal Big Jim McLaughlin and I ran a contest on CHEZ 106 FM's Doc & Woody Show, in promotion of the annual Sportsmen's Show. Some years we battled over outdoor trivia, and another time Eric the Intern dressed-up as a giant fish and we cast lures at him! (ahh, good times!)
What was this contest called? Was it a) The Outdoor Showdown b) The Jim & Jeff Show c) Duelling Sportsmen or d) One more way to abuse Eric
First person to email the correct answer to theoutdoorsguy@rogers.com wins a set of passes to this year's show.
Good luck!
Outdoorsguy